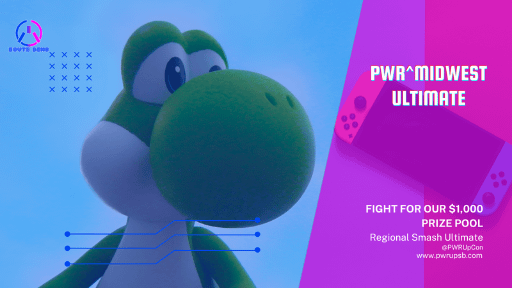 This will be a best-of-three, bracket-style tournament among 28 invitees and 4 winners from our Saturday open tournament. Final seeding will be decided Sunday morning, before the event, but we will announce a general guide to bracket seeding in the coming weeks. Head to the bottom of the page to view our ruleset.
Participating Smash Communities include:
IN
IL
MI
OH
Saturday Smash Open:
On Saturday, December 18th, our TOs on-site will be hosting a bring-your-own Switch tournament in the Bendix Arena LAN Center. Anyone with at least a Saturday access pass or higher may enter.
Details for tournament setup will be determined by the number of entrants. Please check our socials for updates, including the launch of our Smash.gg page.
Ruleset:
The ruleset is subject to change based on review of our Smash coordination team. Final rules will be updated by 11/17/21
Style: Stock
Best 2 out of 3 Matches per set
Stock: 3 Lives
Time Limit: 7:00
Final Smash Meter: Off
Spirits: Off
Damage Handicap: Off
Stage Selection: Loser
Items: Off / None
Advanced Rules:
Damage Ratio: 1.0x
Pause: Off
Hazard Toggle: Off
Mii: All movesets legal
Self-Destruct Moves: In the event of a self destruct move that ends a game, the winner is determined by the results screen.
Sudden Death: In the case of a sudden death match, the winner is whoever has more stock or less percentage (if stock is tied). If there is a percentage tie or there is a tie on stock, a one-stock tiebreaker will be played with a 3-minute time limit. Sudden Death results are not valid. This process is repeated until a winner is determined.
STAGE SELECTION & LEGAL STAGES
Because the validity of a rock paper scissors match over the internet is difficult to verify the first stage in any set should be determined by player agreement. Player's agreement on the first stage will come from the "Starter Stage List"
Play Game 1.
After playing Game 1, the winner will strike two stages from the total stage list.
The loser of Game 1 will pick a remaining stage.
The winner of Game 1 selects his character for Game 2.
The loser of Game 1 selects his character for Game 2.
Play Game 2
Repeat steps 5 through 8 until a majority (three) games have been won by either player.
Stage Agreement: Players may agree to choose any legal stages, as an alternative to normal rules.
LEGAL TOURNAMENT STAGES
Battlefield and Battlefield Forms

Excluding Battlefield Forms: Dream Land GB, Duck Hunt, Flat Zone X, Fountain of Dreams, Gamer, Hanenbow, Mario Maker, Mute City SNES, Pac-Land, Windy Hill Zone

Final Destination and Omega Forms

Excluding Omega Forms: Dream Land GB, Duck Hunt, Flat Zone X, Fountain of Dreams, Gamer, Hanenbow, Mario Maker, Mute City SNES, Pac-Land, Windy Hill Zone

Lylat Cruise
Pokemon Stadium 2
Smashville
Kalos Pokemon League
Town & City
Yoshi's Story